Commissioned Corporate and
Commemorative Collages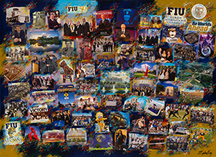 Florida International University
50th Anniversary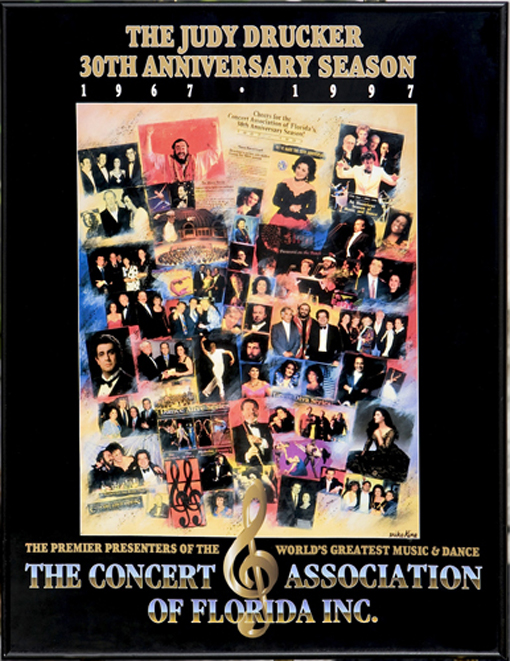 The Concert Association
of Florida, Inc.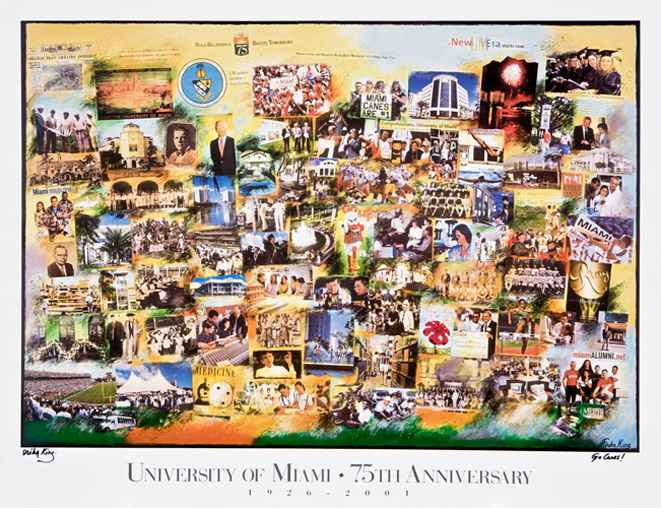 University of Miami
75th Anniversary 1926-2001
Sports Collages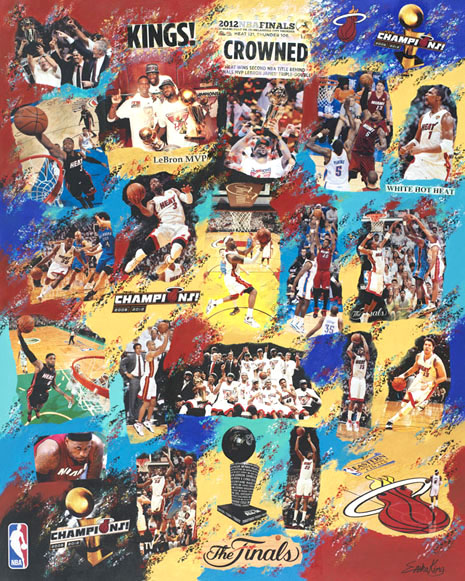 Miami Heat
NBA Championship 2012
48" x 60"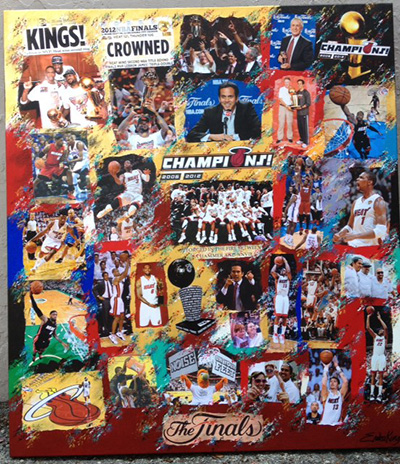 Tribute to Coach Erik Spoelstra
40" x 42"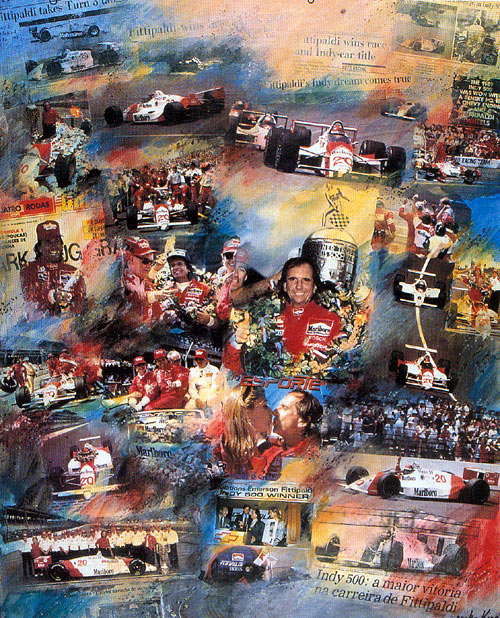 Emmerson Fittipaldi
Indy 500 Commemorative
36" x 48"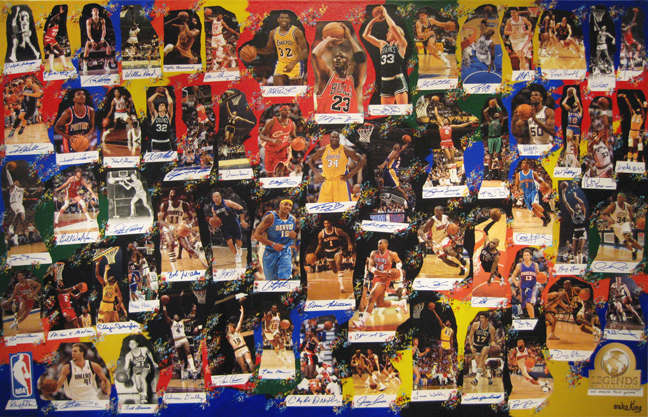 Legends of Basketball- We Made this Game
60" x 40"


Erika King is a Miami based artist known for her corporate,
commemorative, sports and celebrity collages. Through
photographs and paint, Ms. King creates histories and events
into fine art in the form of collage on canvas. Her works are
collected worldwide.
Erika King's corporate collages have been commissioned by American Express, Texaco, the United Way, Anheuser-Busch, Blockbuster Entertainment, AT&T Wireless, and AIG among many other Fortune 500 companies. She has created commemorative collages for the Miami Centennial, City National Bank, the Concert Association, World Trade Center, the Miami Heat, the NBA and the University of Miami, as well as commissions for the private collections of numerous well-known sports, music and political figures.
Born in Philadelphia to a family of artists, she was educated in Germany, Switzerland, Paris and Spain. Her work has been exhibited throughout Europe as well as New York, San Francisco, Caracas and Miami. She lives and works out of her studio in Coconut Grove.
Client List

American Express Company
Bank of America
Burger King Corporation
Texaco, Inc.
Southern Banking Corporation
Dow Corning Latin America
GD Searle International
CBS Records International
Insurance Company of North America
Alexis Lichine Wine
Ryder Systems, Inc.
Grove Isle, Inc.
Security Pacific Bank
The Boy Scouts of America
Society of Security Analysis
Bank of Toledo
Citibank International
Arvida Corporation
U.S. Air
Clark-Biondi and Associates
C.I.T. Financial Corporation
Hyman Construction Company
The Continental Companies
Royal Caribbean Cruise Line
Florida National Bank
The Reise Organization
Morgan Stanley
Chase Manhattan Bank
The Trump Organization
The Prudential Life Assurance Company
Miami Motorsports
ACR Electronics
Hartz Mountain Industries
The Governor's Club
Tishman-Speyer Properties
Price Waterhouse
Sun Bank
Paine Webber
Del Monte Tropical Fruit
Barnett Bank
Lincoln Porperties
US Navy (USS Miami)
Ashkenazy Collection
Lucas Film, Inc.
Emerson Fittipaldi
Mario Andretti
Anheuser-Busch
Blockbuster Entertainment Corporation
Miami Centenial '96
The United Way
Codina/Bush Group
The Beacon Council
Internatinal Beverage Marketing
Cintas Corporation
L.A. Kings
Florida Marlins
Estefan Enterprises
Pan Am, Commermorative
Grossman and Roth, P.A.
Greater Miami Convention and Visitors Bureau
Oryx Energy
Coco Walk/Constructa
Senator Bob Graham
Governor Jeb Bush
Don Shula
The Related Companies
Interim Services
Zubi Advertising
Sterling Healthcare
AT&T Wireless
World Trade Center Miami
Concert Association of Florida
President Bill Clinton
City National Bank
Florida Panthers
Telemundo
Florida Power & Light
The Equitable/AXA
Burdiness 100th Anniversary
Eckerd Drugs
Physicians Healthcare Plan
Interval International
Nokia International
Multivision
Dan Marino
Miami City Ballet
Radio Unica
Coconut Grove Bank 100th
K.C. and the Sunshine Band
University of Miami 75th Anniversary
Arnold Palmer
AIG
Grand Prix Americas
Boys and Girls Club of Miami
NBA All Stars
Florida Grand Opera
Miami Heat NBA Championship
Legends of Basketball
Jackson Memorial Foundation
Alex Rodriguez

Evolution of Spirit Fine Art Series
(Prices upon request)

About Erika King

Erika King was born in Philadelphia, Pennsylvania.

Studies
Earlham College Richmond, Indiana;
Kunstgewerbeschule, Lucerne, Switzerland;
Ecole des Beaux Arts, Paris, France.

GROUP AND SOLO EXHIBITIONS, WORLDWIDE:

1964 Galeries des Jeunes, Paris
Olympics of Fine Arts, Paris (Merit Award)

1965 Casa de Cultura, Malaga
Galerie St. Georges Beirut
Galerie Anglada, Palma de Majorca

1966 Galeria el Bosco, Madrid

1967 Woodstock Gallery, London

1968 America Haus, Munich

1969 Longacre Gallery, New York
The Gallery, Provincetown

1970 Arlene Lind Gallery, San Francisco Discovery Gallery, San Francisco

1971 Gallery One, Coconut Grove

1972 The Lowe Museum Gallery, Coral Gables
Miami Art Center Annual Exhibition
Museum of Sciences Annual Invitational, Miami

1973 Miami Art Center Annual Exhibition
"Women Artists," Miami


Pan-American Annual Exhibition (1st prize in painting)


1974 Downtown Gallery, New Orleans
Metripolitan Museum and Art Center, Miami

1975 Hortt Memorial Annual Exhibition, Fort Lauderdale Museum
Miller and King Gallery, Coconut Grove
Society of the Four Arts Annual Exhibition, Palm Beach

1976 The Ridge Art Association, Winter Park
Florida Gulf Coast Annual Exhibition, Sarasota (Honorable Mention)
Professional Women Artists of Florida, Lowe Museum
Sala Mendoza, Caracas

1977 Metropolitan Museum and Art Center Annual Exbhibition
Hortt Memorial Exhibition, Fort Lauderdale Museum
"Nine Emerging Miami Artists," Lowe Museum

1978 Hubris Gallery, New York
Galleries International, Winter Park
Rizzoli Galleries, Chicago

1979 "Paperworks," Gallery 99, Bal Harbour
Society of the Four Arts, Palm Beach (Honorable Mention)
Centro de Arte Alejandro Freites, Caracas
"Florida Series," The Art Contact, Miami

1980 "Works on Paper," Grove House (Merit Award)
"Vizcaya Series," Viscaya Museum, Miami

1981 Gallery at Grove Isle, new collages and prints

1982 Meta Gallery, New York, prints and works on paper
University of Hawaii at Hilo, prints and works on paper

1983 "Artists Speak for Peace," New World Center, Miami
Barbara Gillman Gallery, Group Show
"Miami Art," Florida Gulf Coast Art Center

1984 "Time Out," Tampa Museum
"Miami's For Me," Barbara Gillman Gallery, Miami
"Works on Paper," USA Today, Washington, D.C.

1985 Andrea Marquit Fine Art, New York

1986 Miami Dade Community College Group Exhibition

1987 Tishman-Speyer Exhibition, large works on canvas

1988 Nina Zubkova Fine Art, Group Exhibition

1989 World Executive Center, Group Exhibition

1990 "Currency" Series, collage on paper and canvas, Borders Gallery

1992 Margulies Taplin Gallery, Bal Harbor

1993 Sports and Entertainment Gallery, Los Angeles

2005 Fendi Casa, Miami

2007 Coconut Grove Gallery

2008 - 2012 Icon Art Images Gallery

2012 Jim Hunter Gallery